Recession Ahead? Generate Cash with a Railcar Sale-Leaseback
The Bloomberg Economics forecast finds a 100% chance of deep recession next year, inflation is at an all-time high, and supply chain issues are anticipated to continue well into 2024. Now is the time to get ahead of this grim economic future and save for a rainy day. Tealinc's Sale-Leaseback program lets you squeeze cash out of every tangible asset in inventory while retaining your much needed rail equipment fleet.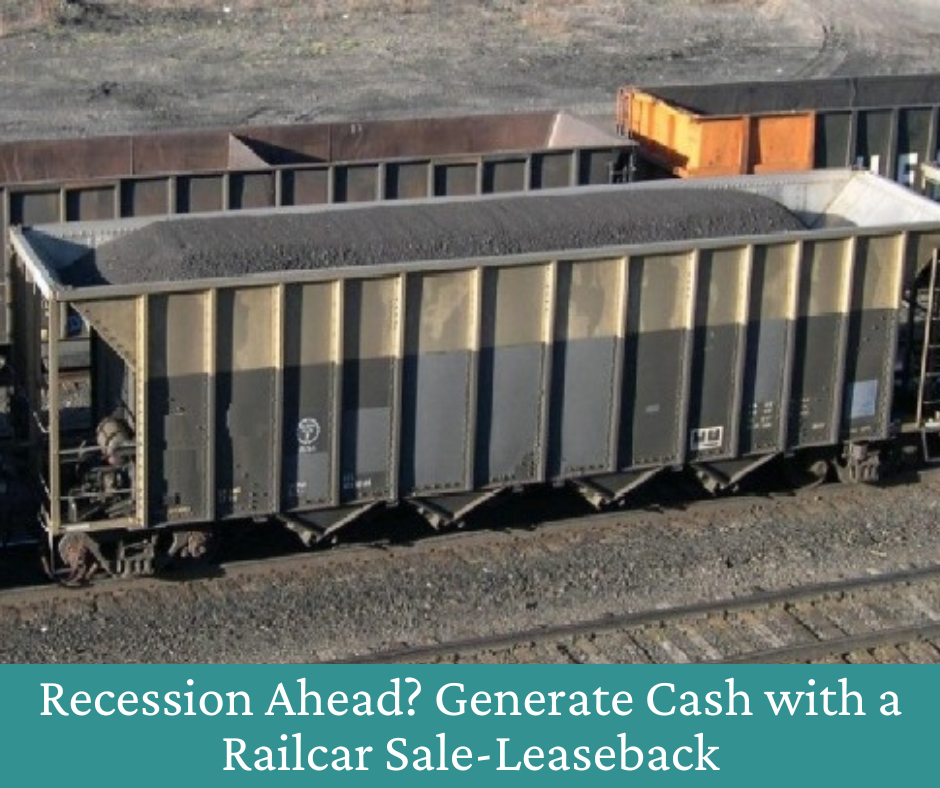 Here's how a railcar sale-leaseback program works. Your company sells its railcars to Tealinc and Tealinc accepts the obligations and responsibility of being the railcar owner. Tealinc immediately pays you cash for your railcars. You can use this cash to grow your business or otherwise invest in other capital. Tealinc leases the railcars back to you at a fixed monthly rate for a fixed term. You maintain control and possession of these railcars to further support your supply chain requirements. As a valued customer and rail partner with Tealinc, you now become eligible for our Rail Fleet Support Services which include a menu of services all available at your request. Support services can include daily/weekly tracing, bad order railcar management, cycle time reports, preventative maintenance planning and repair management, escrow accounts for pre-paid repairs and freight, etc.
Seven Advantages of a Railcar Sale-Leaseback
Capitalize on the value of your equipment and free up operating cash. There are advantages to owning (or leveraging) all of your assets; however, when you want and need more money to continue or grow operations, your equipment will generate immediate cash. By placing some weight on the longevity and usability of the equipment in other applications, you get some relief on your balance sheet and generate free cash flow.
Get cash to propel your business forward. You can invest in your core business with a new source of cash that is more than a depreciable asset on your books. Whether this is a new processing machine, technological advancement, or equipment upgrade yielding a more productive work environment, you will have the cash to proceed.
Focus on your Core Competencies. Often times overwhelming and laborious, railcar ownership, management, and rail fleet support are the fundamental core competencies of Tealinc. Selling your railcars to Tealinc gives you time to focus on your core business and core competency. As a valued customer, Tealinc becomes your built-in rail fleet support partner. Customized rail fleet support packages are available to help you accomplish your unique rail logistics needs.
Get those repairs and upgrades completed. One spin on traditional sale-leaseback transactions is to include the cost of specific railcar upgrades or the inclusion of deferred repairs. When selling your railcars to Tealinc, we can structure the purchase and lease to include the completion of maintenance, repairs, upgrades and railcar modifications that your company may have been putting off.
Improve your company's credit. By converting the equipment cost from a depreciable asset on your balance sheet to an operating expense, you remove it entirely from your balance sheet and do not take a depreciation charge. A more robust balance sheet results in a better credit rating, thus lowering the overall costs of borrowed funds to support the leading business venture.
Transfer railcar obsoletion risk. Face it; all equipment becomes obsolete as technological breakthroughs improve efficiency. As the railcar lessee, the risk and likelihood of a railcar becoming obsolete is no longer your concern. And when the term of your lease is up, you are not locked into an outdated railcar. Just ask owners of 70-ton, single-door boxcar how happy they are with their railcar ownership position.
Get a tax break. Your leased equipment now becomes an operating expense and is generally 100% tax deductible, just like any other operating cost. Tax code is continually changing. See your accountant or internal tax expert before making a decision based solely on taxes.
Want to explore a sale-leaseback with no obligations?
Contact Julie Mink, President-Tealinc at (720) 733-9922 or julie@tealinc.com.
Learn about available open top hoppers and covered hoppers through our recent rail equipment video.
Check out our October's blog post with winter preparation tips.
Read our Q4 Newsletter for end of year insights and rail industry trends.