Showcasing Railcars in Action: Open Top Hoppers.
One of the most universal railcars in the railroad system today is the open top hopper. This railcar type contains different configurations of sizes and uses that fit most any shippers needs.

From a short 42' railcar to the workhorse 53' 01", dimensions and capabilities vary greatly. Door configurations include railcars with two to five doors. Doors themselves can vary widely from completely manual and adjustable to partially automatic or selective door automation, to fully automatic.
For the purposes of this blog "Railcar Education Series – 4000 Cube Open Top Hopper Railcars", we explore the background, commodities shipper, loading and unloading process, and specs of an open top hopper railcar (#H902959). This railcar has multi-purpose and functionality. If you require an open top hopper railcar for your product, there is generally a configuration that will work ideally for you. Check with Tealinc to ensure you have the railcars you need.
Background
The 4000 cubic foot capacity, steel bodied, manual discharge open top hopper railcar was the lifeblood of early coal and taconite hauling. Since transitioned to other uses, this railcar has been successful in a variety of commodity transport requirements. Keep in mind these railcars have 42-degree end slopes and 30-degree slopes in the chute /gate opening which may require additional planning.
Commodities
From loading and shipping aggregates, rock, sand and gravel to minerals, coal, coke, and taconite, open top hoppers are most ideal when transporting good that are impervious to the weather. Think of strategic use and functionality when thinking of the 4000 cubic foot capacity open top hopper. These railcars can even transport things like sand, salt, grain and a host of other commodities when fitted with a cover and/or tarp system to keep the shipped commodity dry.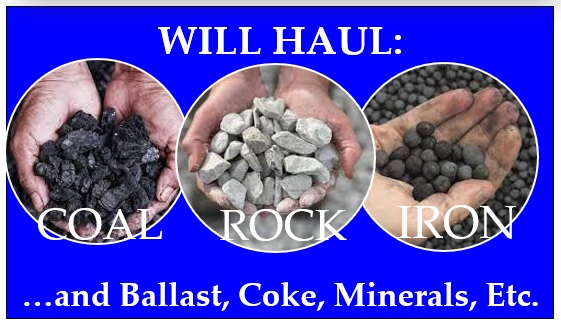 Loading the Open Top Hopper
The standard 4000 cubic feet, steel bodied open top hopper is generally rated to carry 263,000 lbs. gross weight on rail. This means when loaded, this railcar can carry 98 to 102 tons of product. There are various ways to load an open top hopper. Consider the height of the railcar before deciding which loading method you'll use. Typical loading procedures call for front end loaders, conveyors, and overhead bins.
Front end loaders are ideal for loading railcars, generally easily accessible, and most likely the most cost-effective way to load open top hopper cars. There are a couple of requirements that one must consider. One requirement is that you have sufficient clearance to properly load the railcar. Most steel 4000 cube steel open top hoppers railcars are between 12' 09" and 13' 01" in height from the ground to the top of the top chord. Another requirement is to have a mechanism to weigh the product into the railcars.  This could be a bucket scale or a track scale to ensure the gross weight on rail is not exceeded.  The benefit to bucket loading is that the railcars don't need to be moved in order to be weighed.  They can be parked in a row and loaded as desired, provided the loader can access all of them. Using a bucket / front end loader saves on track space.
Conveyors are a handy way to load open top hopper railcars and are generally easily accessible and cost effective.  Most overhead conveyors are equipped with smart devices that can measure quantity of product and weight across various flow rates to ensure the railcar is loaded to its capacity while not creating an overweight situation.  This method requires a bit more track space to pull multiple railcars under a load out in single file.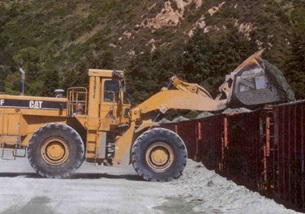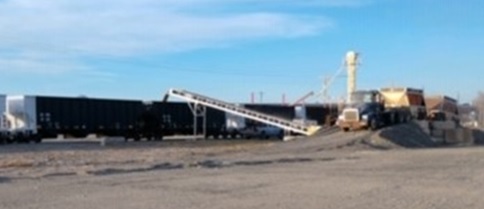 Overhead bins that are usually supported by some type of conveyor or auger system are ideal for loading precise amounts of product in a railcar.  In large volume operations such as coal, taconite, aggregate, etc., the bins are often connected to the railroads Automatic Equipment Identification (AEI) system reading the tare weights on each railcar so that when it gets under the bin the exact amount of product is dumped into the railcar.  This method requires a bit more track space, can be considerably more expensive, and requires more planning; however, the efficiency can be proved time and time again . The overhead bin procedure is excellent for unit train operations.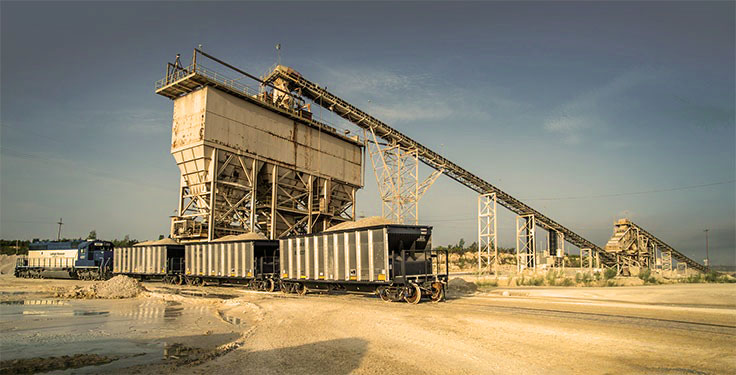 Don't Overload Your Railcars
The track scale, if sufficiently large enough, can accommodate an entire railcar taking the guess work out of weighing how much product is in your railcar; however, each empty railcar must be advanced over the scale prior to loading. This requires significantly more track space.
Unloading the Open Top Hopper
The 4000 cubic foot capacity, steel bodied, manual discharge open top hopper is ideal for smaller pits, tighter yards, and smaller receiving stations.  The manual discharge gate setup allows an operator to unload the railcar one door at a time.  This gives the operator control from overflow of product from the railcar which allows transfer belts, pits, and conveyors to keep up with the gravity discharge and product flow.  Approximately 16% of the product flows out at one time, e.g. per gate opening.  This is proven to be great for most all commodities and more custom tailored to the unload requirements.  For faster unloading, the operator can simply  open more doors at a time. Keep in mind the slope sheets of these railcars are 42-degrees on the end slopes and 30-degree slopes in the chute /gate opening. Some products may require a vibrator, side sill shaker, or overhead shaker to unload all the contents.
The Fastest Unloading – Rotary Dumper
The vast majority of the 4000 cubic foot capacity open top hopper railcars are 53' 01" over coupler pulling faces. This is to create a template so that the railcars can be also used in rotary dumpers. A rotary coupler allows the railcars to be dumped by being rotated in a cylinder type apparatus where the railcar is held in place while rotating by clamps that rest on the top chord.  This allows for one railcar to be unloaded at a time and an entire train to be dumped without having to uncouple each individual railcar.  It is important that a train is stripe
aligned when in this service placing a rotary coupler against a fixed coupler throughout the entire t
rain.  Rotary dumping railcars is almost exclusively used in unit train service. The majority of Tealinc open top hoppers are rotary dumper capable with rotary couplers on one end of the railcar.
Specific Railcars Available Today from Tealinc 
The line drawing and photograph below gives us the general specifications of the 4000 cubic foot steel bodied, manual discharge, open top hopper railcar offered in Tealinc fact sheet #H902959.

Want to know more about 4000 cubic foot capacity, steel bodied, open top hopper railcars?
Want to discuss your specific railcar questions with Tealinc?