The Wide Array of Gondola Railcars.
The gondola is a tried-and-true railcar that is extremely universal, carrying anything from sand, gravel and boulders to scrap steel, bundled ties, steel plate and rolls of steel, woodchips to coal, coke and taconite this railcar type has a very wide application.  Gondolas have a wide array of sizes and cubic capacity ranging from approximately 1980 cubic capacity at 100 tons of carrying capacity to approximately 7000 cubic foot capacity at 110 tons or carrying capacity.   They are generally very well and sturdily made with structural requirements consistent with their use.  The commodities they carry tend to be really hard on equipment and the gondola is built to last.
Variations of the Gondola
The table below shows the various specifications of the gondola and a general description of various sizes and capacity.  Please note this table is not all inclusive.  There are multiple equipment type codes (ETC) for gondolas which means there a quite a few nuances within the gondola railcar world. For the purposes of our "conversation" today, we'll focus in on the mill gondola market.

Aggregate Gondolas
The aggregate gondola is generally short and stoutly built for heavy aggregates, rock sand and gravel.  They carry 286k gross weight on rail and are specifically designed for the rock products. The single biggest advantage of this railcar type is you can get more railcars on less track feet saving valuable infrastructure investment dollars.  The railcars are generally less than 40 feet over coupler pulling faces and have side height of 7 ½' with a capacity of 233k pounds of aggregate at 2520 cubic feet of space.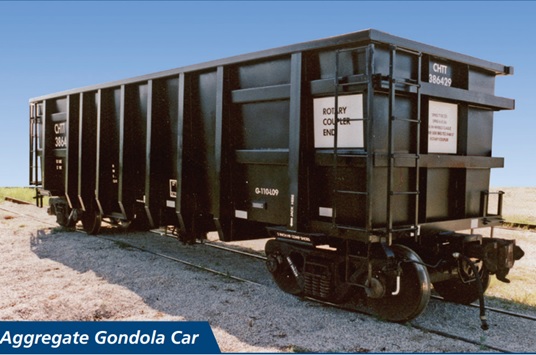 Modern aggregate gondola railcar with 286k gwr at 2520 cube capacity
2244, 2500, & 3250 Cubic Foot Steel Mill Gondola Railcar – 100 ton
The 2244 cubic foot capacity 4.5′ sided mill gondola and 2500 cubic foot capacity 5' sided mill gondola was (is) the work horse of the heavy weight aggregate, rock, sand, scrap and steel industry for a long stretch of time. Its popularity is still very good being used in many applications.  The 263k gross weight on rail mill gondola has many uses most of which are in heavy weight aggregate, rock, sand, and heavy melt scrap service.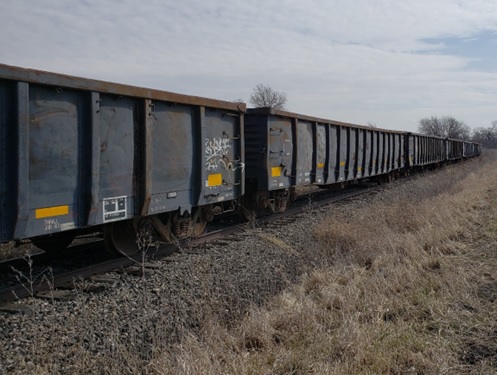 2500 cubic foot capacity, 5' sided, 52' 6" ocpf, steel mill gondola – the original scrap steel workhorse

2400 cubic foot capacity, 5' sided, 52' 6" ocpf, steel mill gondola – handling baled hazardous material
3000 to 3250 Cubic Foot Steel Mill Gondola Railcar – 110 ton
The mill gondolas in this category are generally between 3000 to 3250 cubic feet, generally with 6' side walls having a carrying capacity of 110 tons at 52' and 65' in overall length. Although they have a fairly wide array of cubic capacities. This heavier weight carrying capacity makes them more competitive from a rail rate perspective unless the rail line has a weight restriction.  They are the new(er) workhorse of the scrap and steel plate markets.  This 286k gross weight on rail mill gondola also is used in poles, steel plate and a variety of other businesses.
65' Plain Gondolas
Albeit a less popular mill gondola due to its overall length, this 65', 110 ton of carrying capacity mill gondola has its place.  When length is required for finished plate steel or poles need to have a longer railcar to be safely secured this is the right railcar.  These 286k gross weight on rail mill gondolas are extremely universal being able to handle anything from track panels to scrap steel to aggregates and boulders.

3242 cubic foot gondola at 286k gross weight on rail, 66' Inside Length, 71' Outside Length
Loading and Unloading Processes for a Gondola Railcar.
Magnet.
For metallic products, an overhead magnet is ideal for loading and unloading. The mill gondola has a short side and flat bottom making maneuverability of a magnet successfully.
Grapple, Excavator or Backhoe. For the more industrial customers who have heavy commodities such as aggregates, scrap metal, baled waste, construction & demolition debris, steel or even poles, the railcar is either crawled by a backhoe or excavator. In some cases, an unloader will set up an excavator on an elevated platform over the railcar or alongside it.

Handling scrap ties with an excavator

Climbing a mill gondola to unload with an excavator
Want to know more about gondola railcars?
Want to lease, buy, sell or trade gondolas?
Want to discuss your specific railcar questions with Tealinc?